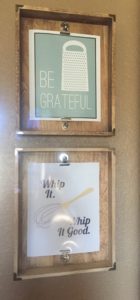 That's Amandatory: Live a "Want To" Life.
A while back I found some downloadable printables for my kitchen. I hung "Be Grateful" above "Whip It. Whip It Good." because I want to see it first when looking in that direction. Although they both make me smile as they catch my eye, "Be Grateful" serves as a constant positive reminder.
"HAVE TO's" vs. "WANT TO's"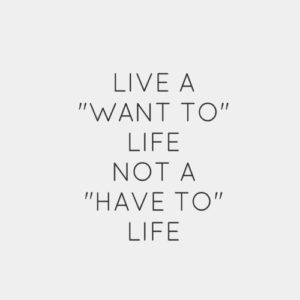 For much of my adult life, I lived most days as "have to's" in order to save up some "want tos". Dr. Timothy A Pychyl, Ph.D., explains in a 2013 article "I Have To Do It or I Want To Do It" in Psychology Today. Instead of feeling trapped but what I felt was expected of me, I wanted to live each day motivated by what lit me up.
When I moved to Austin in January of 2008, I choose to live a life built on a foundation of "want to"-type days. Yes, "have to's" still existed but moving to a place that resonated well with my inner self helped me feed "want to's". Did I need to move in order to make that change? No, I chose to move to be where I enjoyed living. Do I mean that once in Austin my life became charmed and was completely changed? More like I shifted from thinking about what I needed to what I desired to contribute. My time there focused on growth, relationships and learning more about my body's relationship with food.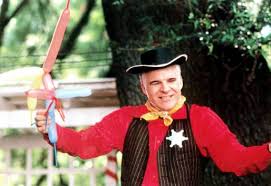 Do you remember that movie with Steve Martin (and lots of other greats) — Parenthood? That film brings to mind so many situations that speak to me. In particular, there is a scene he does with Mary Steenburgen, who plays his wife, where she asks him if he "has to"? His response and ensuing rant about how his whole life is "have to" haunted me until I chose to live my life differently.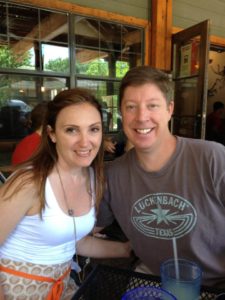 Speaking of choices, when Scott proposed and I accepted (obvi) life took another turn. It took me a good six months to realize it, but that choice merely shifted my path in life. A choice to be single or married is simply a choice. Neither is what we are supposed to do or be. Supposed to doesn't really serve anyone.
For most of my life, being married was one of the top desires in my life. I think I wanted it so badly that I often drove it away. Once I met Scott, being with him would have been enough. Maybe that shift in me allowed one or both of us to easily choose to be together. Once we married, I realized that my life had already been complete and wonderful whether I married or not. Wonderful family and friends (the family we choose–love y'all!) and great experiences make for a beautiful life.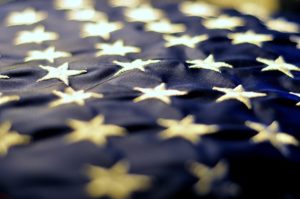 Back to experiences and choices…today is Memorial Day 2016.
When Mom and I went to Italy, we talked about the potential places we could visit in each city. We met up with Care Bear in Florence and planned our time there with her. Mom's list of attractions included the Florence American Cemetery and Memorial about 7.5 miles south of the city.
Online reviews of the cemetery repeat the words: honor, reverent, respectful, touching, moving, powerful, heart-warming, inspiring, sacrifice, tribute. These words perfect epitomize Memorial Day to me. This last decade especially, Americans seem to have developed a deeper respect for our troops and our military. How refreshing!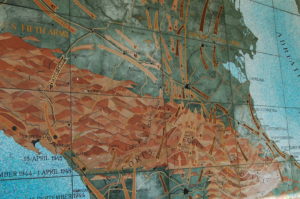 If visitors know of someone buried there, personnel there can always assist (during open hours) with finding the marker. The monuments at the top of the hill past the rows of headstones tell the story. So does the Tuscan Traveler.
We were surprised to find it right off the highway and clearly visible AND stunning. Looking around, I took in the serenity of this place framed by rolling hills with the Greve river to one side. The vastness (70 acres) and beauty of this resting place in the Tuscan hills shifted my mind into the mode of a potential mother of one of the 4,402 American veterans (mostly from the Fifth Army) representing 39% of the troops who died between Rome and the Alps buried here.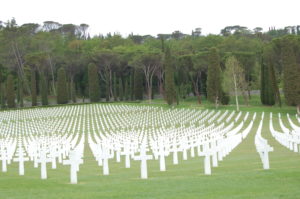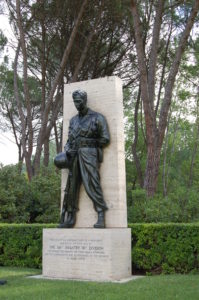 Would I have wanted my child buried here? I cannot imagine that any parent would ever want to contemplate the death of a child. Nor would likely want to think about where that child would be buried. But if it had happened and if it had been my child, would I want them resting in a place like this? My attention was drawn back to my own mother when another visitor (not American) snidely asked, "Does it upset you that your tax dollars fund things like this?"
My mom calmly turned to look at the young man and replied, "They paid for my freedom with their lives. Spending my tax dollars on memorials like this is a very small price to pay for their sacrifice."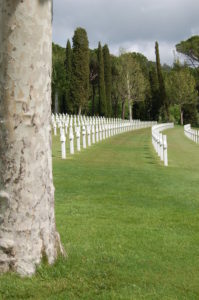 Even writing these words now brings tears to my eyes. How touching that she would want to honor these people and that she would fiercely defend that feeling to a stranger. I never asked but wondered if she must have been thinking of her dad who served 3 years in Europe during WWII and then again in Korea during that war…or of her brother who served in Vietnam, or her uncle who spent his career in Navy. In the hillside graves buried where she stood she could probably imagine them all.
BACK TO BEING GRATEFUL
Today we pause to think of the ultimate sacrifice so many of our citizens have made. The U.S. Census Bureau reports 21.8 million veterans in the U.S. with the highest numbers in California, Texas and Florida. Over 1.3 million served in multiple wars. When each of them, as a new recruit, took the Oath of Enlistment or the Oath of Office that potential sacrifice became a reality. Although we set aside today, Memorial Day, to remember those who have fallen in the line of duty, it is perfect opportunity to be grateful and thank those who have served and are serving for their sacrifice as well.
With wet cheeks and a grateful heart I, for one, say, "Thank you for your service."