That's Amandatory: If you fail to prepare, you prepare to fail!
Once you know the basics of reading labels and avoiding gluten, you feel educated but overwhelmed. Here's help!
Many people advocate completely changing your diet. While that works well for some (and is probably ideal) a more feasible approach may be to ease into the gluten-free lifestyle by beginning with substitutions. Please keep in mind that since gluten is a moisture retention agent, often these items will taste more dry. Prepare yourself! Also know that once your gut begins to heal and your symptoms subside, you will realize it was soooooo worth the extra effort.
Just like starting any new regimen, if you prep for success you are must more likely to succeed. Having what you need and what is familiar to you will help to ease the transition and help you win.  In 2011 when I went G-free, most of these options were unavailable. If you are just going gluten-free now, you are in luck!
Staples available at most grocery stores:
Gluten-free Bisquick 
Sam Mills pastas
Santitas Corn Chips
La Choy Soy Sauce or Coconut Aminos
Most Luna bars (lemon and Berry Greek Yogurt)
Cheerios (all varieties)
Rice Chexs (all varieties)
Betty Crocker Cake Mixes
Glutino cookies (similar to Oreos)
Jones All-Natural Sausage
Applegate Farms Lunch Meats
Applegate Farms Hot Dogs
Namaste Flour
Almond Flour (not brand-specific)
Coconut Flour (not brand-specific)
Frozen Section: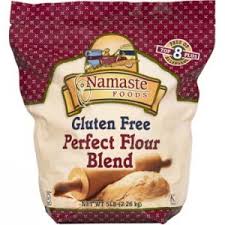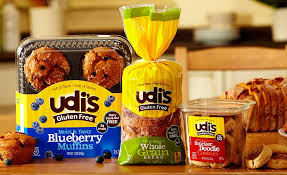 Udi's or Rudi's Bread
Udi's Blueberry Muffins
Walmart:
GF Croutons
Frittatas (frozen)
GF Chicken Nuggets (frozen)
What are your favorite gluten-free staples? How did they contribute to your health and goals? Please share them with us here!